Purpose: To help you understand the complexity of converting your DB2 Cobol external stored procedures, whether you plan on doing the conversion yourself or contracting Tcorem to do the conversion for you.
Tcorem will take your fully expanded COBOL external stored procedure source code and perform a functional decomposition of its structure. A summary report will also be created, and will include the following categories:
Total Lines of Code
Working Storage
Procedure Division
Each of the above contains line code counts of source, comments and blanks.
Number and type of COBOL Verbs
Number of SQL statements not to be converted
Number and type of SQL statements to be converted
The summary report also contains a Pie Chart similar to this one: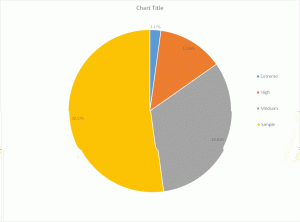 To see a sample of the Assessment Detail Report click here.   Program Report
To see a sample of the Assessment Summary Report click here.   Summary Report
Also, if any COBOL external stored procedure cannot be converted, they will be annotated on the report indicating that fact and explaining why they cannot be converted. Some of the reasons are:
COBOL call to a non-stored procedure program  Note: These can be converted if the called COBOL program code is converted to a native stored procedure.
Executing CICS, IMS, or VSAM commands.
The fee for each assessment depends on the number of stored procedures to be converted. We must have all COBOL stored procedure components required to create a fully expanded COBOL stored procedure for the assessment run. This consists of:
All Copybooks (both data and procedure division)
All Include files (both data and procedure division)
All External Stored Procedure source Code
All External Stored Procedure Database Development Language (DDL) used to create the External Stored Procedures in DB2
If you sign a contract with Tcorem to do a full conversion project within 60 days after the completion of the assessment, your Assessment fee will be credited against the conversion price.
Below is a visual of the conversion process. To download a copy of the Assessment Workflow Document click here:  Tcorem Stored Procedure Conversion Assessment Process